PLC Repair and Maintenance Service
PLC Repair Service
If your electronic equipment is vital to your business, then knowing who to call when that equipment goes down is just as vital. For programmable logic controller (PLC) repair, the clear choice is Global Electronic Services.
We are a proven leader in the repair of all industrial electronics, including PLC repair service and electronic PLC maintenance service. If your company has a PLC that needs repairing or routine maintenance, we'll provide you with high-quality service for an even higher-quality result.

Our Programmable Logic Controller (PLC) Process
We conduct our PLC repair services as smoothly and quickly as possible to get you the best results in the most efficient time. PLCs are an essential part of any set of operations because they allow different electronic devices to connect and communicate. Without them, it'd be much more difficult to conduct tests and send and receive output. If you find your company's PLC isn't in working order, however, there's no need to panic — even if you can't immediately diagnose the issue.
Send your component to us at Global Electronic Services, and we'll conduct a free evaluation to pinpoint problem areas before we do repairs. Your PLC will also receive a unique barcode for in-process monitoring, allowing us to give periodic updates on the unit's status.
The evaluation helps us get acquainted with your device, so we know exactly how to fix it. We produce a list of necessary repairs, along with a free quote, and submit it to your business for approval. From there, we follow a practiced set of steps to achieve a polished outcome:
Inspecting: We supply input power to the device to check its inputs and outputs. These physical connectors enable the PLC to receive new information and send data to other devices.
Replacing: Components with commonly high failure rates — such as relays, capacitors and optoisolators — receive inspection and are replaced as necessary. Our extensive inventory of both new and obsolete parts means we can find the right fit for your PLC despite its age or model.
Installing: After we inspect and replace these elements, we install a test program onto the PLC. This step ensures the central processing unit (CPU) and logic are functioning as they should. The CPU acts as the device's brain, telling it what to do and how to do it. This vital element consists of even smaller parts — such as a microprocessor and memory chip — which all assist in completing tasks.
Testing: The battery, circuit and ladder logic also receive an assessment to verify their condition. A thorough inspection process is necessary for catching all issues before returning any device. Our attention to detail allows us to uphold client satisfaction and provide the highest-quality service.
Cleaning: The next-to-last step consists of cleaning the entire unit and giving it one last test to check its functionality. A detailed cleaning job lets us return your PLC in a near brand-new condition, repaired and ready for any application your company has for it.
Packaging: Once the unit is ready for shipping, we prepare it for packing and calculate packaging requirements based on the PLC's weight, size and shape. This step enables us to achieve optimal conditions for safe travel. We then invoice the repair and make it available to review in our Secure Customer Portal. Every detail is listed so you don't miss a thing regarding your device's repair and shipment.
Our step-by-step process allows us to analyze problems and amend them to make sure they don't happen again. Businesses who put their equipment in our hands can be sure they'll get their money's worth in quality and dependability. By submitting documents for customer approval, assigning a specialized technician to each unit and tracking each device with barcoding technology, we hold ourselves accountable for your company's electronics.
Why Global Electronic Services for PLC Maintenance Service and PLC Repair?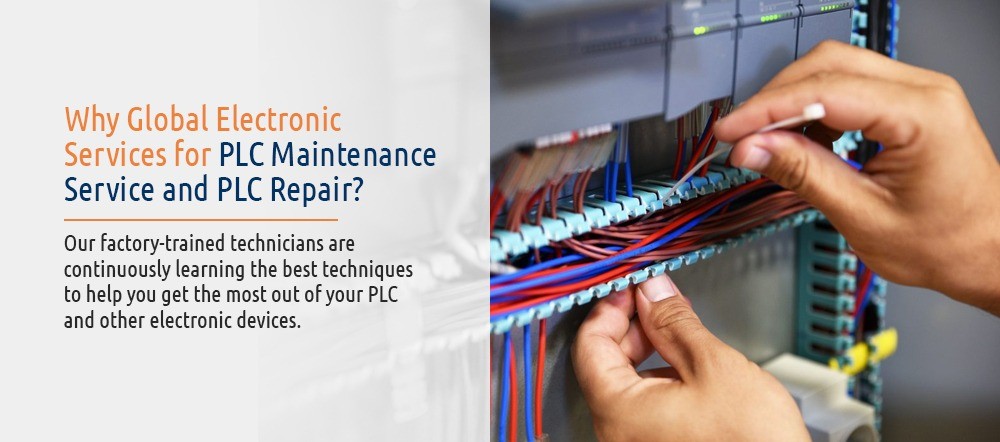 Global Electronic Services is the company you want to employ for PLC repair and maintenance. Our factory-trained technicians are continuously learning the best techniques to help you get the most out of your PLC and other electronic devices. In addition to our highly experienced team, we offer benefits that are hard to find anywhere else.
Speed and Service
We stock thousands of components and parts in-house, meaning we can have your device ready to go and back at your company within one to five business days. One- to two-day rush service is available for more urgent needs, free of charge. We understand how crucial it is to have the right parts on time to avoid costly downtime and productivity loss, which is why we offer such a speedy turnaround.
All of our repairs come under our industry-leading 18-month In-Service Warranty, and our customer service team remains available 24/7 for any concerns your business may have. Feel free to reach out to one of our experienced professionals with questions or comments. We communicate with your company through the entire repair process, so you'll always know what's going on next with your device.
Right Service at the Right Price
By keeping our PLC maintenance and repair transparent, we ensure there are no surprising costs — your quote won't increase after repairs are complete. And if you go to a competitor with a lower price than ours, we'll beat their charge by 10% per our Repair Price Guarantee. Free quotes and evaluations reduce the overall amount further, allowing you to reap the benefits of excellent PLC repair services without facing unreasonable costs.
FAQs About PLC Maintenance Service and PLC Repair
What Brands Do You Repair?
We work with a broad range of brands to give your company the best service possible, no matter which business your PLC hails from. Our expert team has the training and years of experience to work efficiently with numerous electronics companies. Some of the brands we accept for PLC repair include:
Honeywell
Allen Bradley
Texas Instruments
Modicon
Westinghouse
Siemens
How Does Your Shipping Process Work?
We receive and ship packages worldwide, and we ensure your company receives excellent service whether you're in the United States or overseas. We offer packing slips for you to print and mail with your repair, making the process easy and convenient — exactly what you need when you already have a broken electronic device to deal with. Insuring your shipment is an option if you'd like additional peace of mind when receiving your device through the mail.
Contact Global Electronic Services Now for Great Service on PLC Repair
You need those PLCs up and running fast, so don't waste any more time. If you have any questions about our maintenance and repair options or want to request a free quote for service, give us a call at 877-249-1701 or contact us online today.
Additional Resources