Industrial Controls

Industrial Control Repairs Reduce Downtime | Industrial Controls Repair Service Process | Industrial Controls Maintenance | Troubleshooting Tips | FAQs | Contact Us for Industrial Control Repairs
Repair Industrial Controls
Industrial controls operate the machinery your facility relies upon to keep operations moving at an efficient pace. When these controls break down, your team loses precious time. Recognize the signs that your industrial controls need repairs and learn how often to maintain these components to optimize your operations. Planning, maintenance and prompt repairs of industrial controls will reduce your business's downtime and productivity loss.
Industrial Control Repairs Reduce Downtime
Industrial controls regulate several functions and devices, allowing for automation and reduced human effort in your facility. However, damaged controls will slow your operations until repairs finish. Even if you have backup controls, your business will still operate with fewer than the full number of control systems you need. Therefore, finding fast delivery on repaired parts can get your facility back to full operation.
When it comes to finding repairs, you don't want to waste time waiting for a third party to complete work on your industrial controls. We can complete your repairs in one to five days, or fewer than two days with rush service. By expediting your repairs, we help you reduce downtime and lost productivity and profits in your business.
Industrial Controls Repair Service Process
We follow a strict procedure for all our repairs. When repairing industrial control systems, our process focuses on fixing problems and checking for other points of known failure to ensure the repaired control will function at its peak when you receive it. You will have an 18-month warranty on all industrial control repairs from us.
Our repair process for all components that arrive at one of our facilities is as follows:
1. Inspecting the Part and Generating a Quote
When we first receive a part, we create a system file for the component to allow you to track it through the repair and shipping process. Next, we have a technician evaluate the problem, create a needed parts list for the repairs and generate a quote for the task.
Your business will receive an email or phone call with the quote. Once we get your approval for the quoted price, we send the part to the repair phase.
2. Troubleshooting and Performing Repairs
Our troubleshooting and repair phase includes visual inspection and testing of the unit. For industrial controls, our troubleshooting and repair phase involves the following:
Checking all common points of failure, such as transistors and capacitors.
Verifying the integrity of internal power supplies.
Load testing all output components, such as transistors and solid-state relays.
Ensuring the software operates upon boot up.
Completing any needed repairs.
3. Load Testing and Verifying Repairs
To ensure the repairs successfully solved the issue, we always conduct multiple tests afterward. To verify repairs, we run a test program that exercises the industrial controls to ensure they work as they should under load.
4. Cleaning
The cleaning phase removes any residue that may have contaminated the unit during disassembly and repairs. This portion of the repair process also readies the control unit for immediate installation upon arriving back at your business. Following cleaning, we always retest repaired industrial controls to ensure they continue functioning as expected.
5. Shipping
Once cleaned, parts undergo a final quality check before being packaged and shipped back to your business. You will see an invoice in the portal on our website to review.
Industrial Controls Maintenance
Preventative maintenance can reduce unanticipated downtime due to equipment failure. Though maintenance chores require some downtime, your company can schedule them to have the lowest impact on production. Always follow appropriate safety procedures when conducting any form of maintenance, including lockout/tagout to prevent accidental powering of the device during the process.
Here are some tasks to conduct during your maintenance routine:
1. Perform a General Inspection of the Industrial Controls
First, conduct a general visual inspection of the controls and components. If you find contamination from moisture, dust or dirt, search for the cause of it after cleaning it out. The controls may need an upgraded enclosure. Moisture intrusion into the controls requires your facility to replace the controls to avoid problems caused by electrical shorts. If you can vacuum or otherwise remove all the dust and dirt from the controls, your business can continue using them.
Other components that will need inspecting for signs of wear or damage include the following:
Contactors should not show excessive silver wear or dirt buildup.
Moving parts should move easily without sticking.
Terminals should have tight connections.
Cooling devices should have intact, properly operating fans.
Coils should not show cracks, burns or melted insulation.
Batteries must remain intact and not leak fluid.
Arc hoods should not have cracks, erosion or breaks.
Heat exchanger fins and photoelectric switch lenses should operate as intended.
Note all problems you see during the visual inspection to create an efficient list for which worn parts you need to replace.
2. Replace Worn or Expired Components
All components that have signs of wear or are nearing their expiration dates, such as batteries, need replacement. In addition to replacing worn components, find the causes for the problems. For instance, if coils have cracks, find out why they overheated and correct the issue. You may need to conduct tests to determine the controls' operating efficiency and see where problems come from.
When replacing components on a schedule, such as batteries, you should adhere to the system's manufacturer's recommendations. Also, only use approved components for replacement parts. Your company can find a range of replacement industrial controls and components from Global Electronic Services.
3. Test Equipment
Lastly, conduct tests to verify the controls work efficiently. For equipment that uses solid-state devices, prevent damage by avoiding high-voltage testing on the controls. Some systems may have software for testing or other similar mechanisms that can help ensure you properly maintain your industrial controls.
Troubleshooting Tips
Regular maintenance can prevent some problems. However, issues can still arise even with your company using good care and maintenance habits for its controls. Therefore, your facility must have troubleshooting methods ready to identify minor issues and fix them or decide if the best option is sending the part in for repairs. Here are some troubleshooting tasks to keep in your arsenal:
1. Examine the Functionality of Individual Components
Rather than blaming the entire system, break down the troubleshooting process into bits. Examine the functionality of individual components to pinpoint the problem's origins. Part of examining the individual parts or subsystems of industrial controls may require measuring and testing.
2. Measure Inputs and Outputs of Components
Measure the inputs and outputs of subsystems and control components to ensure the expected values match the measured numbers. For instance, verify that every powered component has adequate electricity supplying it. Power input and output should be the first thing you check for each component because it often causes operational errors or problems.
3. Test Alternative Components When Needed
If you aren't certain whether a cable is a cause, replace the possibly faulty part with one that works. Should replacing the cable improve the controls' function, you will know the original cable was the issue. However, if using replacement parts or alternative components does not solve the issue, you may have a software problem instead of a hardware issue.
When using alternative components, replace a single part at a time until you identify the cause of the problem. Installing multiple replacement parts at once will make it more difficult to name the faulty part.
4. Use Troubleshooting Software
Troubleshooting software can find out if your controls have a communication problem with their subsystems. Slow or non-communicating systems may require software updates or other repairs instead of hardware replacements.
5. Examine Environmental Factors
Check the surroundings for signs of environmental effects that could cause problems. For instance, look for dust-producing equipment that could contaminate internal operations. Or identify sources of excessive humidity or moisture that could cause electrical shorts. Eliminate these factors before deciding to send industrial controls for repairs.
6. Send the Part for Repairs
If troubleshooting techniques do not produce a solution, send the industrial controls for repairs. When basic servicing will not suffice, you need professional technicians to examine and replace damaged parts of the controls to restore them to full operation.
FAQs
If your company experiences problems with your industrial controls, find out how your business can send the part in for our industrial control solutions. We can conduct repairs of your company's controls to reduce the downtime your facility experiences. Below are some answers to common questions about our service process:
1. Are Repairs Covered Under a Warranty?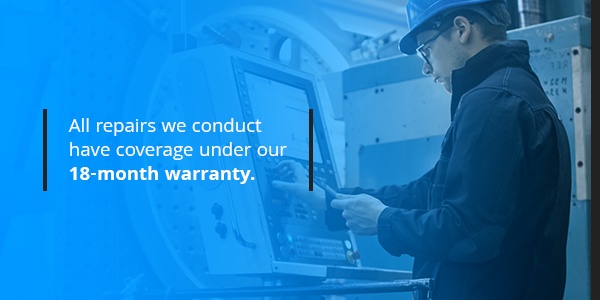 All repairs we conduct have coverage under our 18-month warranty. This warranty begins from the time your company puts the part back into use. This warranty also covers damage to the parts caused by normal use after your facility starts using it again.
2. What If the Industrial Controls My Company Sends for Repairs Don't Have Problems?
If you send a part to one of our repair facilities and the component does not need repairs, you do not pay for the evaluation. Repair evaluations and quotes are free. You will only receive a charge for any repairs we do and the replacement parts we use.
3. What Is the Typical Turnaround Time for a Quote and Repair?
We strive to get a quote for your company's part within 24 hours of receiving the component. Typically, our staff delivers the quote via phone or email. To approve the quote, either sign and return the sales order or send us a purchase order for the repairs.
After approval, repairs take just a few days. In total, your company's industrial controls will be away from the facility for one to five days. If you must have the repairs finished sooner, request rush repair service to get the parts back within one to two days.
4. Is Rush Repair Service Available? What Is the Cost of This Service?
Rush repairs are a free option for businesses that need to have their part repairs completed as quickly as possible. Though our regular service has a one-to-five-day turnaround time, our rush repair cuts this time to one to two days. You do not pay any extra for rush service. You only have to indicate that you need to have the part's repairs rushed when you fill out the packing slip.
5. Will You Have the Replacement Parts Needed for My Business's Industrial Controls?
When it comes to replacement parts, we have standard components plus parts from obsolete models. Our warehouses have adequate stock to repair almost any type of industrial controls, with parts designed to work with that model.
However, a system's needs will sometimes fall outside of the catalog of parts we have in our warehouse for an exact replacement. Our technicians will determine an alternative part that will fit and function in your industrial controls and use that instead.
6. How Can My Company Send My Industrial Controls for Repairs?
If you need to send a nonfunctional part for repairs, we have two repair facilities. You will find the facility closest to you by looking at our maps and the states each site services.
Our East Coast repair facility, in Buford, Georgia, also serves as our corporate headquarters. It is where businesses located east of the Mississippi River send parts for repairs. Those located in Alabama, Georgia, North Carolina, South Carolina and Tennessee receive free delivery and pickup from this facility.
For companies to the west of the service area for our East Coast repair facility, we offer our West Coast facility in Euless, Texas. Here, we offer free delivery and pickup to companies located in Arkansas, Kansas, Louisiana, New Mexico, Oklahoma and Texas.
Once you know which facility provides repairs for industrial controls for your company, you must download the appropriate packing slip based on where you will ship your parts. For instance, if your business is in Pennsylvania, you would download and fill out the packing slip for the East Coast facility. However, if your business operates from California, you would download and fill in the packing slip for the West Coast location.
Pack the slip with the part and send it to the address on the form. After we receive your part and create a quote, we will notify you and you can approve the quote or request changes.
If you already have a quote from another company for the same repairs, let us know. We will beat competitors' quotes by 10%.
7. Can My Company Contact a Technician in an Emergency?
Manufacturing emergencies don't wait for standard office hours to occur. If your company has an emergency situation with one of its systems or parts, contact our emergency line at 877-249-1701 and press 1. We have trained technicians available 24 hours a day to answer your questions about emergency situations, repairs and similar pressing concerns. If the line requests you to leave a voice message, please do so, and one of our technicians will return your call within an hour.
We are here to keep your facility running at its peak, which includes providing you with emergency information and advice at all hours of the day.
Contact Us for Industrial Control Repairs
For more information or help from Global Electronic Services for maintaining or repairing your company's industrial controls, request a quote. For answers to technical questions about your industrial controls, contact one of our technicians. We'll help you keep your company operating at its best with our services that include repair of industrial control system components and more.
Additional Resources: