Allen-Bradley Photo Sensors 92-99 Reflective Tape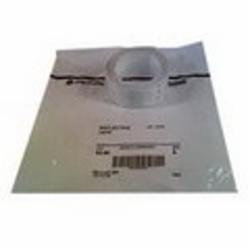 Allen-Bradley 92-99 Allen-Bradley Photo Sensors 92-99 Reflective Tape
Key Features
Reflective Tape
Length: 100 IN
Width: 1 IN
Allen-Bradley
Model #:

92-99

Part #:

92-99
92-99 Allen-Bradley | BUY OR REPAIR
Overview
Allen-Bradley Reflective Tape
In manufacturing and industrial practices, automated machines rely on sensors to understand the presence of objects. The sensors usually run along the edges of conveyor belts, and they may alert other automatic parts about the presence of a package or another material. Photoelectric sensors require a reflective material on the opposing side of the belt to work. When the light reflection is broken, the sensor knows there's an object on the belt.
Allen-Bradley 92-99 reflective tape is a proximity sensor option for your photo sensor setup. Application is simple, and you can count on your retroreflective or diffused sensor picking up on the highly reflective material. The 92-99 reflective tape is made from glass bead and metalized film to help it reflect light when shined upon.
This reflective tape comes on a roll, like any other type of tape. Cut a piece to your specifications and apply it opposite to a photo sensor to create a reflective barrier for products to pass through. Reflective tape is especially beneficial for machine setups where plastic reflectors don't fit or can't be applied across from your photo sensor.
Allen-Bradley 92-99 Features
This reflective tape has a few features that may make it an excellent proximity tool for your photoelectric sensor. It is:
– 100 in. long
– 1 in. wide
– Compatible with retroreflective or diffused sensors
Call Global Electric Services for Replacements and Repairs
Your company wants to keep your product line efficient and well-equipped to handle all kinds of jobs. While Global Electric Services provides reflective tape for photo sensor purposes, we also offer a wide selection of other electronic parts from Allen-Bradley and other brands. Plus, your company can count on us for quick repairs on broken components to reduce downtimes.
If you'd like to learn more about our products or services, you can contact us online or give us a call at 877-249-1701.
Features
Reflective Tape
Length: 100 IN
Width: 1 IN